Are you concerned about the appearance of your thin hair? Did you know you can use hair extensions for thin hair to fill out your head and give you just the look you want? There are various options available to you, and you will be amazed at what a difference these can make!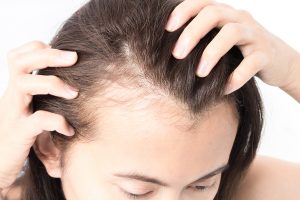 While nobody wants to risk damaging their hair from accessories and treatments, those with thin hair are at even greater risk when problems happen. Whether your hair is naturally thin or you are struggling to recover from some type of hair nightmare that left your locks thin and weak, the right extensions will do wonders for your appearance and your self-esteem!
For women with thinning hair, tape in hair extensions are the most recommended style of extensions in use today. Although a newer method, these are sought after because of the reduced risks associated with them. These types of hair additions utilize a special tape.
Of course, there are other choices that can be used as well. For instance, you can use clip in hair extensions. However, if you go this route, you will need to select placement carefully. Because the clips are going to need natural hair for gripping, if you don't have sufficient supplies in the desired area, it will be challenging to get a good hold.
Some women opt for fusion hair extensions which utilize a special type of bonding agent made from keratin. A unit supplying ultrasonic waves is employed to soften the keratin to make bonding possible. This is more expensive and must be done by a professional, especially the removal, for best results.
When you are searching for hair extensions for thin hair, it is important that you choose hair that most closely matches the texture and density of your own. You want for the new extensions to blend seamlessly into your own locks. Additionally, you will want to check that the color is a good match for yours.
Some women opt to use hair extensions in a slightly lighter color than their own in order to simulate natural highlights. Alternatively, you could use slightly darker colors to create a deeper undertone to the back of your hair. Speak to your beauty professional about the best ways to accentuate your features with your new hair extensions.
One of the factors you will need to weigh is whether you want to invest in human hair or stick with a synthetic product. For women who have thinning hair, it is often best to use human hair products. They last longer and look great even after daily styling and upkeep.
No matter what the reasons are that you have thin hair, you can do something about it! Hair extensions are a great choice to help fill out your hair and restore your confidence. You can find lovely human hair and synthetic options that will allow you to achieve the look you desire today!